This is Part 3 of a series on Grant Thornton's global research for H2 2020. Part 1 introduces the report and provides a framework for interpreting the data, while Part 2 summarises the main findings at a global level.
Grant Thornton's global research reveals that the business confidence among company leaders in APAC stands at 62%, a remarkably high total for a region that has been badly affected by the slowdown in international travel. This total is 6 percentage points higher than in H2 2019, and a full 15 percentage points above H1 2020 levels. The high level of confidence is especially notable because the same group of respondents also predicted a worsening of several key business constraints over the coming 12-month period.
Grant Thornton's global research measures business sentiment among chief executive officers, managing directors, chairpersons, or other senior executives from all industry sectors. For each country included in the survey, a minimum of 50 respondents are interviewed for the report.
Obstacles in the path – but also the confidence to overcome them
As we see in the chart below, the business confidence among survey respondents in H2 2020 stands out in contrast to other indicators highlighted in the same survey.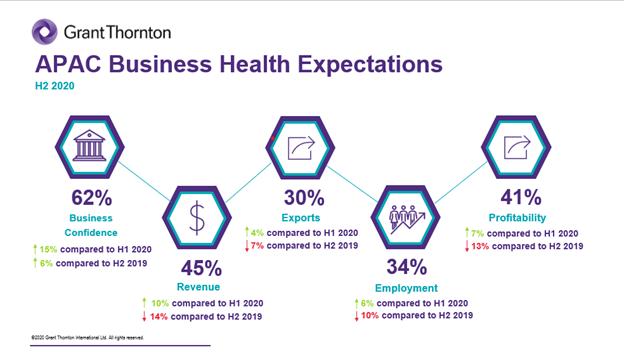 Predictions about tangible quantities such as revenue and profitability, for example, seem to trail behind the more abstract term of business confidence.
Likewise, the next chart gives little support for the buoyant levels of optimism expressed by survey respondents: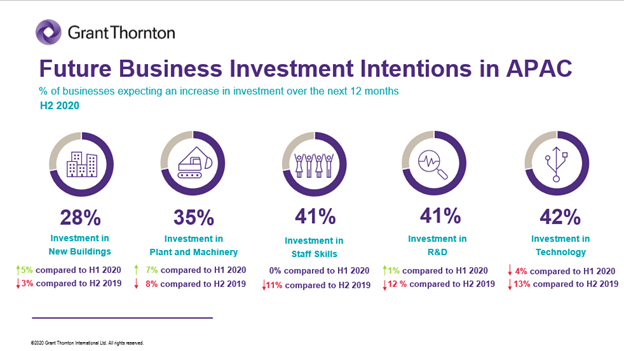 A closer look at the numbers, however, yields interesting findings about business strategy moving forward. The expected increases in investment toward new buildings as well as plant and machinery may not lead to immediate profit, but could very well set the stage for better performance further down the road. With short-term sales continuing to face headwinds amid the struggling world economy, such forward-looking strategies may represent the most sensible remaining strategy.
Support for this analysis comes from the report's other top-level data, which shows continuing challenges in a number of categories – including a shortage of finance as well as general economic uncertainty. The chart below shows that overall, the only major constraint expected to become less severe pertains to the quantity of customer orders. Survey respondents expect most other key challenges to get worse before they get better: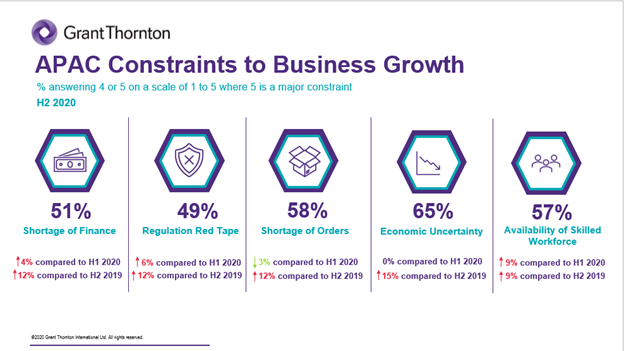 These ongoing challenges, including regulatory hurdles and a shortage of skilled workers, highlight the need for businesses across APAC to make special tactical adaptations as they push forward during this transformational economic period. From specific adjustments and upgrades – such as advanced recruitment methods for key positions – to the all-purpose flexibility made possible by agile business structures, future success will depend in large part on the ability of companies to incorporate thoroughly modern processes at the heart of their operations.
The recent increase in viral spread within certain APAC nations (including Thailand, South Korea, and Japan) indicates that, despite the promise of vaccines to come shortly, the potential remains for COVID-19 to continue to cause disruption across economies moving forward. This uncertainty provides even greater reason for businesses to embrace flexibility as a strategic ideal, rather than adopting optimism itself as a strategy and simply hoping for the best.
Part 4 of this series, covering Thailand, will follow shortly.