This article was written before COVID-19 cases began appearing in Thailand.
Optimism among mid-market business leaders worldwide is at 59% – a slight increase over H1 2019, but still far from its peak in H1 2018
Thailand saw a notable drop in its business optimism totals, from 40% in H1 down to 33% in H2 2019
Poor export numbers and internal political uncertainty continue to constrain business growth in Thailand
As a new and unpredictable decade dawns, the business world looks forward with its optimism largely intact, according to Grant Thornton's latest International Business Report (IBR). Leaders in mid-market companies around the world delivered an average optimism score of 59% in H2 2019, a rise of 3% over the first half of the year. This modest improvement is an encouraging contrast to the two consecutive declines that preceded it, although there remains a long way to climb before reaching H1 2018's high of 69% global optimism.
Globally, the grouping with the lowest optimism score continues to be Developed APAC (23%), while Emerging APAC has the highest overall optimism score (72%). These diverging scores within Asia-Pacific continue a long-standing trend of separation between the two geographically similar groups. Profitability numbers, for instance, reveal a similar disparity. When mid-market businesses in Developed APAC countries are asked if they expect an overall profit increase over the following year, they score just 33% on average – while businesses in Emerging APAC countries register an impressive 64% on the same measurement.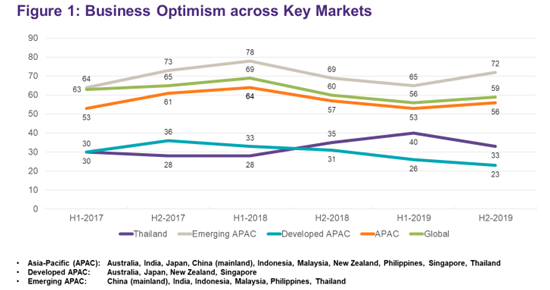 As Thailand's economic slowdown continues, its optimism scores among mid-market business leaders fell to 33% overall, which represents a drop of 7 pp from H1 2019. A deeper look at the numbers reveals where this fall in optimism is coming from.
Thailand's growth expectation is on the decline in several key areas, including Employment (-12 pp), Exports (-9 pp), Selling Prices (-7 pp), Revenue (-6 pp), Investment in Staff Skills (-4 pp).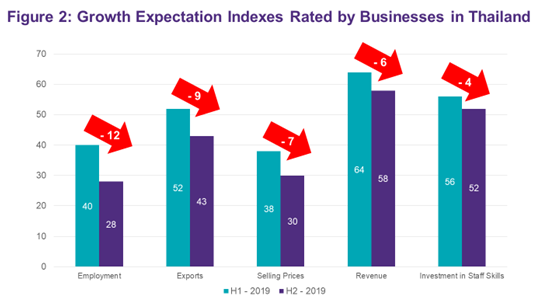 Moreover, economic uncertainty within Thailand remains at 75%, the clearest constraint to growth within the economy. Indeed, this figure is the second-highest in the world – behind only Argentina, which is currently in the midst of a full-blown crisis. Other notable constraints reported by businesses in Thailand include Regulations and Red Tape (48%), Labour Costs (47%), Energy Costs (47%) and Availability of Skilled Workers (46%).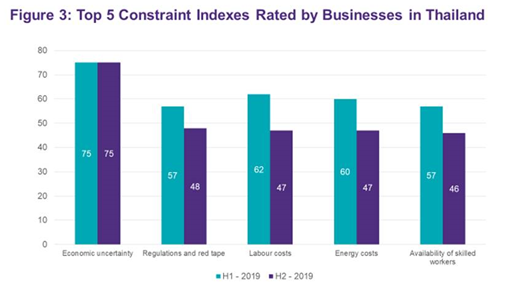 The survey also included specific questions for Thailand regarding the top three internal and external factors which individual respondents think will affect the Thai economy. A majority of survey respondents stated that the global economic slowdown (58.3%), internal political uncertainty (53.4%) and strong Thai baht (37.9%) are the top three issues restraining Thailand's economic growth in the months ahead.
When asked about their biggest concerns in the political realm, respondents signaled that the government's inability to deliver its policies (52.4%) was at the top of the list – yet closely followed by conflict within the coalition government (49.5%), and a lack of government transparency (48.5%).
According to participants in Thailand, positive factors driving future growth in the country include the government's ability to optimise the budget efficiently (55.3%), as well as the progress of the country's mega-infrastructure projects (43.7%). Other promising sources of growth were also identified, such as increases in domestic consumption (37.9%), increased investment by the private sector (35%), and the recovery of Thailand's tourism industry (31.1%).
Difficulties during and after the Thai elections this past year have put the government on its back foot, leaving some businesses wondering whether its Thailand 4.0 project will be able to recover its initial momentum. This setback, in addition to budgetary delays, would be cause for concern even if other factors were within normal parameters.
Yet the situation is made more urgent by the unusually strong baht – which in turn has hurt both exports and tourism, the major drivers of Thailand's economic growth. An inevitable consequence of this slowdown is the rise in the country's unemployment rate. The number of working-age citizens claiming unemployment benefits has risen by over 11% from January to November 2019.
Moreover, with exports and tourism unlikely to bounce back early this year, the most promising solution rests with the Thai government. If it allocates its resources efficiently, the government has the ability to improve business outcomes, and therefore boost employment.
About IBR:
As the world's leading survey of mid-market companies, Grant Thornton's IBR provides vital insight into the health of the global mid-market. These results for H2 2019 reflect the views of nearly 5,000 mid-market companies interviewed across 30+ countries in October and November of 2019. Participants in Thailand totalled 103 respondents from companies with a headcount between 50-500.

N.B.: All figures in current and future reports are defined as the percentage of businesses expecting an 'increase', whereas previously we calculated percentage figures as a 'net balance'.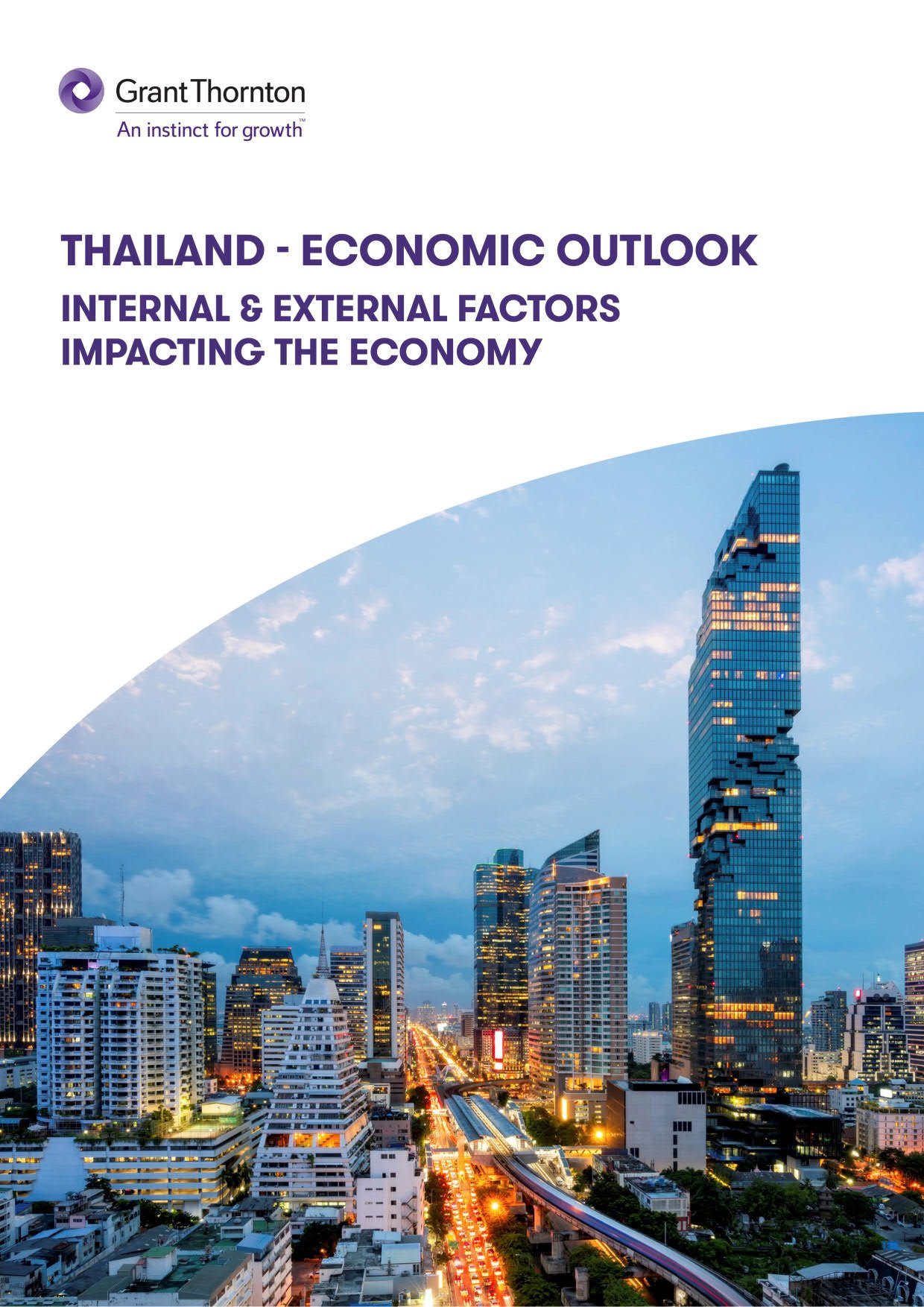 DOWNLOAD REPORT
Thailand Economic Outlook
Insight from mid-markets companies in Thailand
Internal and external factors impacting the economy