Businesses in Thailand Remain Cautiously Optimistic, Look to Government for Economic Leadership in 2021
This is Part 4 of a series on Grant Thornton's global research for H2 2020. Part 1 introduces the report and provides a framework for interpreting the data, while Part 2 summarises the main findings at a global level, and Part 3 reviews the data concerning APAC.
Thailand's business leaders once again show modest, but increasing, levels of business confidence when compared with their counterparts across APAC and around the world, according to Grant Thornton's global research for H2 2020. The study also reveals especially high levels of economic uncertainty, along with the widespread belief that the Thai government could play a greater role in the country's economic recovery moving forward.
The findings are based on 101 interviews conducted with mid-market leaders in Thailand, between 19 October and 4 December. Regional and global figures follow a similar methodology – with a minimum of 50 respondents for each economy listed, and spanning 29 economies in total. Interviewees include chief executive officers, managing directors, chairpersons, and other senior executives from mid-market companies in all industry sectors.
Land of hesitant smiles
Despite relative success thus far in handling the pandemic, Thailand has produced lower overall levels of business confidence (33%) than exist elsewhere in the business world (62% in APAC, and 57% worldwide). Thailand's H2 2020 optimism figure nevertheless represents an increase of 9% over its H1 2020 total.
Two explanations would seem to account for this underwhelming statistic. One is that Thailand's economy relies to a significant extent on the performance of its tourism industry, which has suffered greatly from the shutdown in international travel. Another factor worth considering is that Thailand's optimism totals from before the pandemic were likewise muted, given (among other things) real uncertainty surrounding the government's Thailand 4.0 initiative. However, on an encouraging note for this initiative, positive Investment in Technology responses increased by 9 percentage points from H1 2020.
The study highlights positive indicators for Thailand's business community moving forward, as seen in the chart below. In particular, expectations surrounding employment are a full 12 percentage points higher than they were a year ago: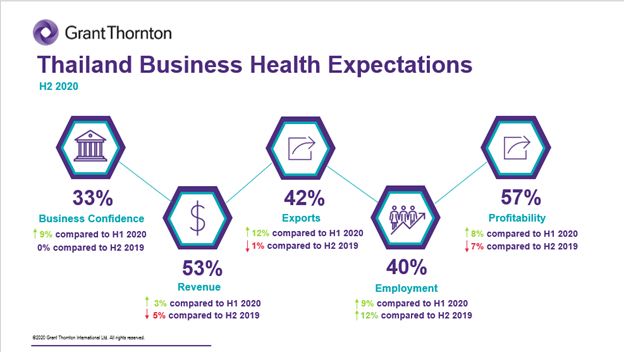 Survey respondents expected their businesses to significantly increase investment in new buildings and technology over the next 12 months, as compared with estimates made earlier in the year: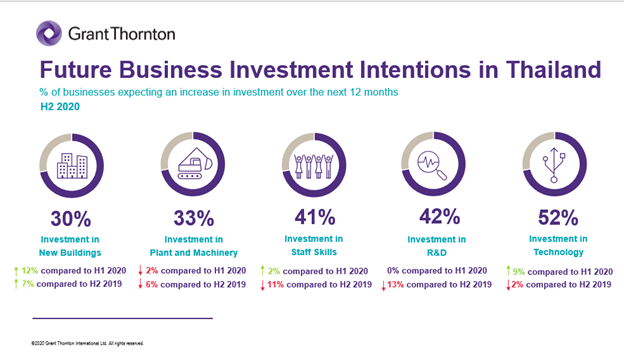 Meanwhile, significant constraints will continue to affect businesses, according to survey respondents – including a remarkable 83% who listed economic uncertainty as a significant barrier to growth.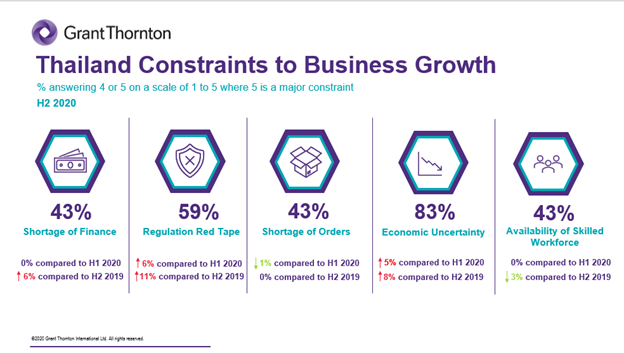 Overall, just 26% expected to see their business revenue increase in the next 12 months, with 13% anticipating no change – and the rest bracing for declines of varying severity: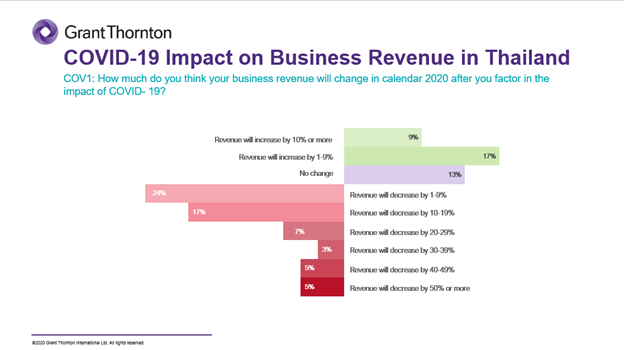 A common theme among respondents was that social and economic leadership from government would continue to be an appropriate way to mitigate the damage stemming from the pandemic: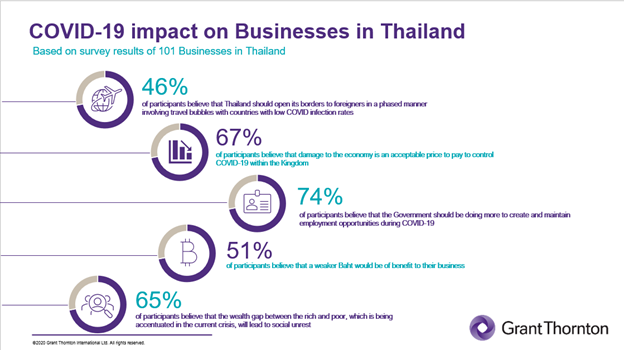 At the same time, respondents recognised the need for their own businesses to adapt intelligently to the challenges and opportunities of the changing economic reality. These expected adaptations frequently take the form of technological and organisational modernisation, which form a key part of the agile business model: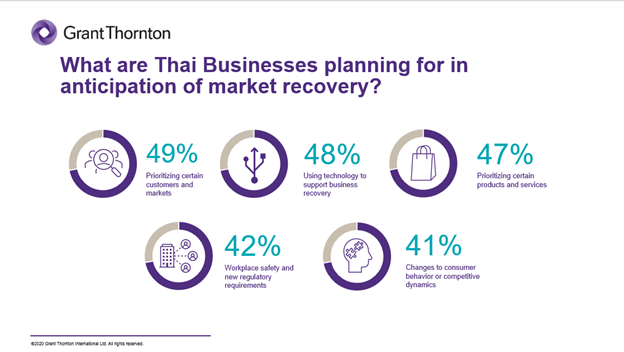 Ian Pascoe, CEO and Managing Partner of Grant Thornton in Thailand, commented on the findings:
The logic is simple: When customers' needs change, and their shopping or buying habits also change, businesses must move quickly to meet the new expectations. But adaptation is more than just a switch to e-commerce, for example, or an embrace of digital marketing. You need up-to-the-minute data to guide your next move. Government policy can only do so much, and its role is essentially just to give your business more runway to work with. Knowing what to do with that extra opportunity is just as important.
Technology is one part of the equation. Accurate research is another, particularly when it's paired with organisational flexibility. These combined elements can help any business find its way forward, even when faced with the kind of economic uncertainty that we find in Thailand today. At the end of the day, it's smart preparation that gives businesses good reason to be optimistic. Some industries will have it easier or harder than others, but every business should act decisively to increase its organisational agility if it wants to have the best chance at long-term success.