Grant Thornton in Thailand is proud to officially unveil the International Business Report (IBR) findings for H2 2021. The report delivers comprehensive analysis of forward-looking economic indicators, based on surveys from 10,000 mid-market businesses as well as 100 interviews with company leaders across various sectors.
As the world continues to deal with the COVID-19 crisis, this IBR synthesises the business community's views and expectations moving forward, so that the necessary preparations can be made.
This review highlights some of the key findings from the IBR, beginning with global and Asia-Pacific trends, before taking a deeper dive into the key insights for Thailand.
A quick note before proceeding: This IBR is not reflective of the recent discovery and global outbreak of the COVID-19 Omicron variant, as it is based on data collected in October and November 2021.
Global findings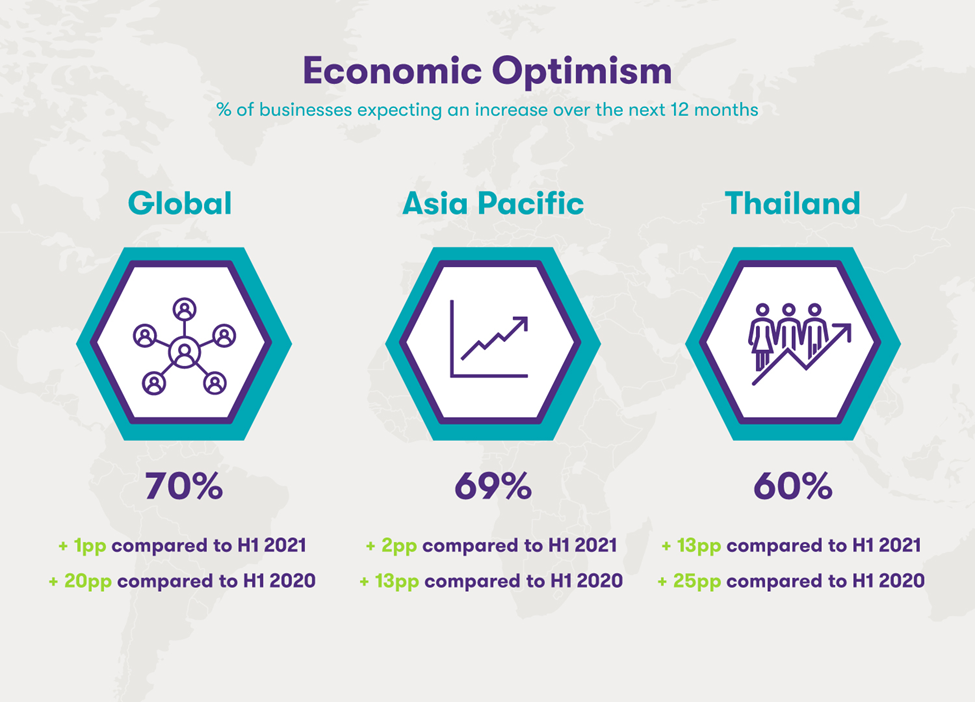 The International Business Report for H2 2021 suggests that a steady global economic recovery is in sight, even as the pandemic continues. 70% of surveyed global mid-market business leaders indicated a sentiment of economic optimism – a 1 percentage point (pp) increase from H1 2021, and a steep increase of 20pp compared to H2 2020. These numbers indicate a significant improvement in economic confidence from a year ago, when the pandemic was a relatively new phenomenon.
Ian Pascoe, CEO and Managing Partner at Grant Thronton in Thailand, attributes the rise of this global economic confidence to businesses' success in adapting to this new normal. "Whether it is cutting costs, restructuring internal operations, or optimising cash management, more businesses are rising to the challenge," he said. "In fact, despite the ongoing supply chain disruptions, our latest IBR survey shows that 45% of respondents expect an increase in international exports over the next 12 months – that's a 15pp increase from last year."
Luxsamee Deetrakulwattanapol, Partner in Audit Services at Grant Thornton in Thailand, welcomed the increase in business optimism, but nevertheless raises concern over the Omicron variant. "While this economic positivity is certainly good news, the findings might look different had the Omicron variant come a little earlier."
Findings for Asia-Pacific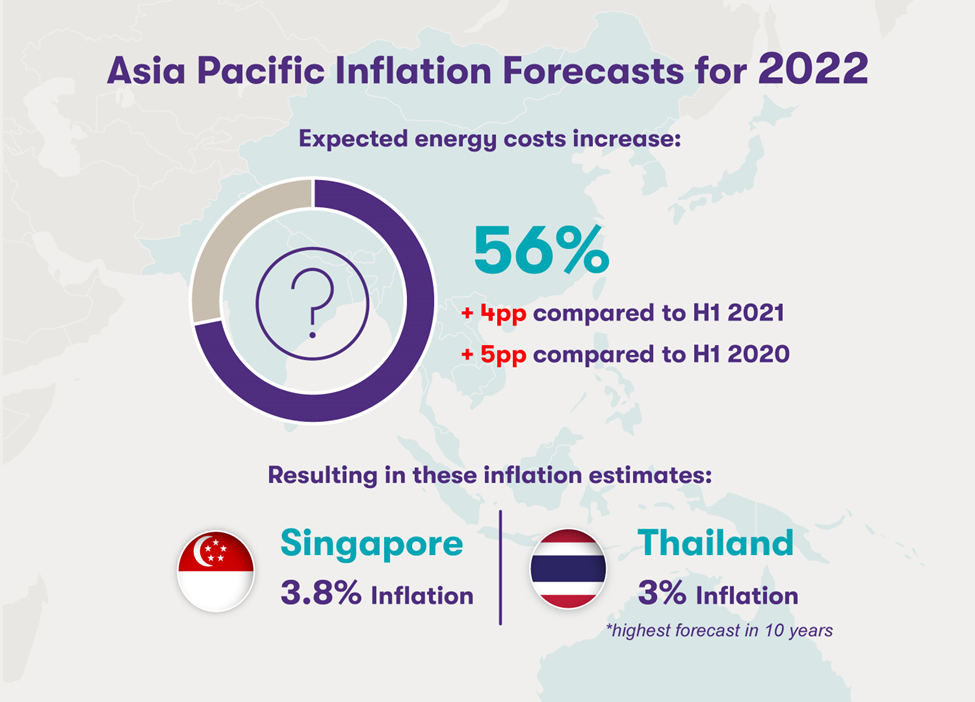 As with the IBR's global findings, economic optimism in the Asia-Pacific region is relatively encouraging. 69% of respondents indicated a sentiment of overall optimism moving forward, reflecting another steep (13pp) increase from H2 2020. Business concerns remain, however – particularly relating to inflation.
The current economic recovery comes with increased demand and a supply shortage, leading to inevitable concerns surrounding inflation. For instance, the IBR survey shows that 56% of mid-market business leaders expect an increase in energy costs – a 4pp surge compared to H1 2021. The latest energy shortage, and the increased prices that accompany it, has prompted countries like Singapore and Thailand to forecast their 2022 inflation rates to jump to 3.8% and 3%, respectively. For Thailand, a 3% inflation rate would be its highest in 10 years.
Kesanee Srathongphool, Audit Partner at Grant Thornton in Thailand, warns of the impacts stemming from such an inflation increase. "Expect selling prices of energy-related commodities such as LNG and natural gas, as well as other raw materials and products, to increase as a result of this rise in inflation."
Tanva Mahitivanichcha, Tax & Legal Partner at Grant Thornton in Thailand, opined on what businesses can do to prepare during a period of inflation. "Be proactive. Talk to your suppliers, lock in long-term, fixed price contracts rather than inflation rate adjustments. Remove unnecessary business costs. Make an extra effort to retain your customers. These moves will help your business get ahead of the curve."
Findings for Thailand
60% of mid-market business leaders in Thailand expressed optimism for the future – a rate higher than pre-COVID levels. This welcome news should, however, be understood in the context of the report's economic uncertainty score. This measurement, which tracks the lack of economic predictability in the future, remains at a concerning 74%, or 2pp higher than in H1 2021.
"Even without Omicron, Thailand's foundational industries like tourism and hospitality are not in top shape – leading to this uncertainty," said Adulpol Charukesnunt, Financial Advisory Services Director at Grant Thornton in Thailand. "But businesses are by no means powerless. Other trends are rising, like outsourcing, technology investment, and government incentives."
Indeed, many businesses affected by the pandemic are focusing more on their core functions and services, and outsourcing their other operations to conserve resources. New IBR data includes a survey of 101 businesses in Thailand, which reveals that 46% have entered into outsourcing agreements since the pandemic began, along with another 6% having plans to outsource in 2022.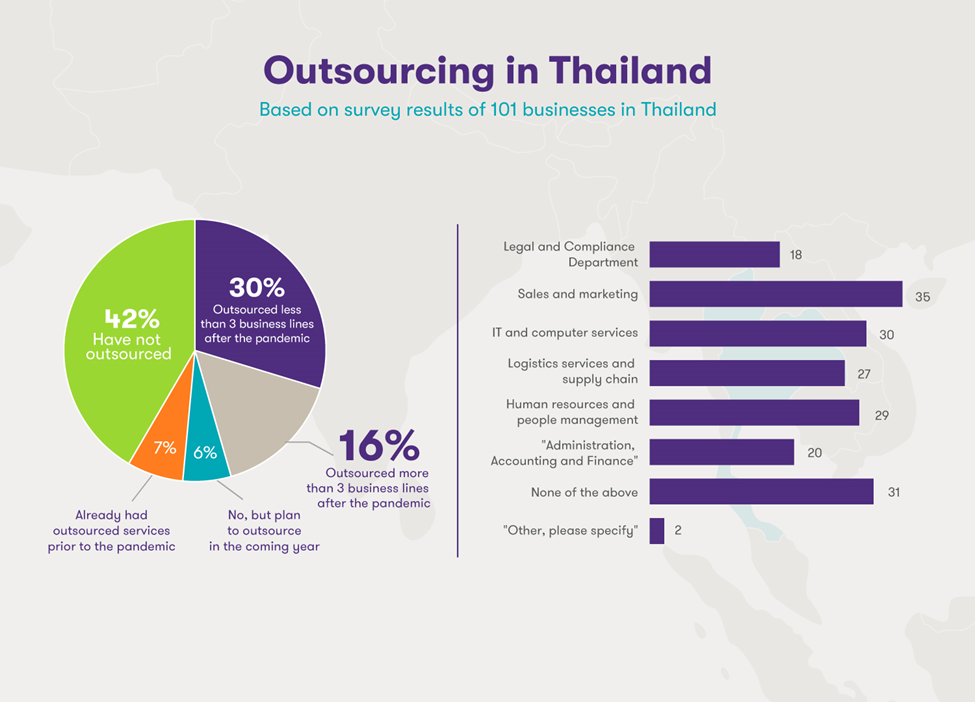 Jean-Paul Binot, Director of Business Process Outsourcing at Grant Thornton, stresses the importance of smart outsourcing. "Outsourcing lets businesses adapt in times of uncertainty, saving money while increasing overall productivity," he said. "We are seeing more outsourcing to sectors like IT and computer services, as well as human resources and management."
Other trends across Thailand are also emerging in light of this pandemic, such as an emphasis on pursuing various Board of Investment incentive packages. These initiatives are aimed at facilitating technological innovations, while providing a government stimulus for ailing businesses.
IBR survey results also shine a light on other trends across Thailand. 74% of respondents expect an increase in profitability, 63% plan to increase their research and development efforts, 63% forecast an increase in exports, 54% anticipate an increase in revenue from non-domestic markets, and 52% are planning for an increase in employment.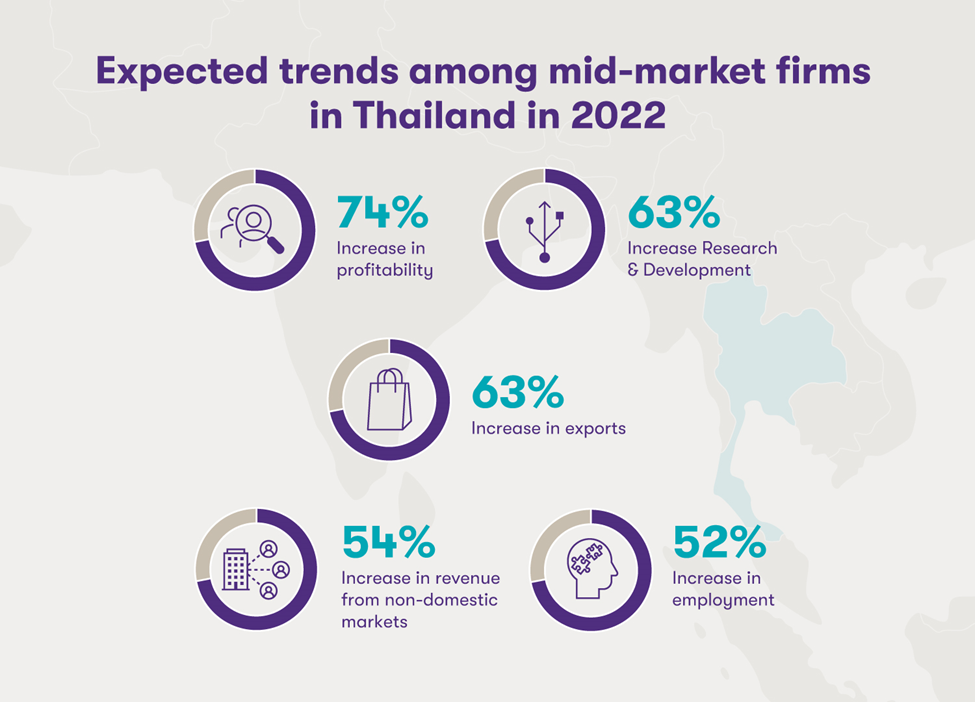 The issue of employment remains crucial to a lasting economic recovery. With Thailand suffering its highest jobless rate since 2005, Ratna Wright, Partner of Business Consulting at Grant Thornton in Thailand, emphasises talent distribution as a key variable within each industry. "Skilled personnel are necessary for growth in all sectors," she said. "Instead of viewing talent as an additional cost, businesses should consider their people as valuable assets."
With tourism and hospitality among the sectors taking financial hits, Thailand's economic recovery efforts will depend on the ability of businesses to weigh these trends and opportunities when plotting their course forward.
Anticipating 2022 and beyond
High economic optimism and other positive indicators point to a bright year ahead – but caution remains warranted.
"The past two years have been turbulent, and many respondents continue to express a significant level of economic uncertainty," said Chris Cracknell, Chairman of Grant Thornton in Thailand. "Nothing is guaranteed heading into 2022, especially with Omicron on the loose. But our IBR should give you a good idea of what to expect over the coming months."
To position your business for success in 2022, contact Grant Thornton in Thailand today.