Going Public in Thailand: How to Meet the Requirements
An IPO represents a major step forward in the growth of a business. A listing on the stock exchange unlocks an important source of long-term funding, while also enhancing the company's image in the eyes of the public. Both of these benefits can be used to attract top talent to the organisation, which in turn can help it grow further.
Yet preparing for this step is no easy task, and can take up to a year or more for every requirement to be fulfilled. In order to successfully list in the stock exchange, there are various steps that the organization has to prepare, including, but not limited to, governance and internal control assessment and preparation, organization review/ restructuring and process improvement including policy and procedures preparation/ revision.
Standards for excellence
Every company that intends to go public must first require to be complied with SEC governance framework as well as embedding appropriate internal control. Beginning with assessing entity level control and process level control, third party auditor could assess internal control against COSO framework and SEC governance code as well as walkthrough documents. Then, gap analysis and recommendation will be provided to improve corporate governance and internal control system. Each of the above initiatives should be carefully aligned with the COSO framework (see the diagram below), which helps ensure that every element of business procedure is fully accounted for.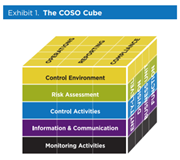 Source: Internal Control—Integrated Framework (Framework), © [2013] Committee of Sponsoring Organizations of the Treadway Commission (COSO).
Due to the benefit in implementing shared service or outsourcing, some businesses are outsourced some of function such as finance and accounting to the third party. However, according to the SEC requirement, both listing entities and non-listed group must operate independently. As such condition, the separation of key management and no reliance on operation are required. Consequently, the company is required to restructure both of business structure and organization chart.
To satisfy regulators, protect investors, and set the business itself on a stable course, the reliable ERP system and company policies and procedures are required to be implemented. The reliable ERP could benefit not only providing financial statement on time to investor, but also enable management to take right decision to moving forward business. In addition to implement ERP system, some company might need to develop or review the set of policies and procedures for end-to-end business process. This could improve both of business efficiency and good governance and control of the company.
For both legal and practical reasons, these operations are sufficiently complex that they require external oversight as part of the IPO application process in Thailand. Because of how time-consuming the entire process often becomes; it is essential for pre-IPO companies to bring in a third-party auditor or consultant as soon as possible.
Though every IPO requires long hours of intense preparation, much good can come out of the process. Companies tend to become much better organised when every task follows clear and sensible internal standards. By investing in quality, and embracing best practices as outlined by their external advisers, businesses can make themselves truly ready for public scrutiny – not just in regulatory terms, but for every practical facet of the organisation as well.