The global economy cratered in 2020 – and despite seeing a far lower rate of COVID-19 infections than most other countries, Thailand suffered major economic losses just the same. As markets dried up, secondary and tertiary effects from the pandemic period began to make themselves felt: Widening wealth gaps, social unrest, increases in certain types of crime, neglect of non-COVID-related health issues, and more.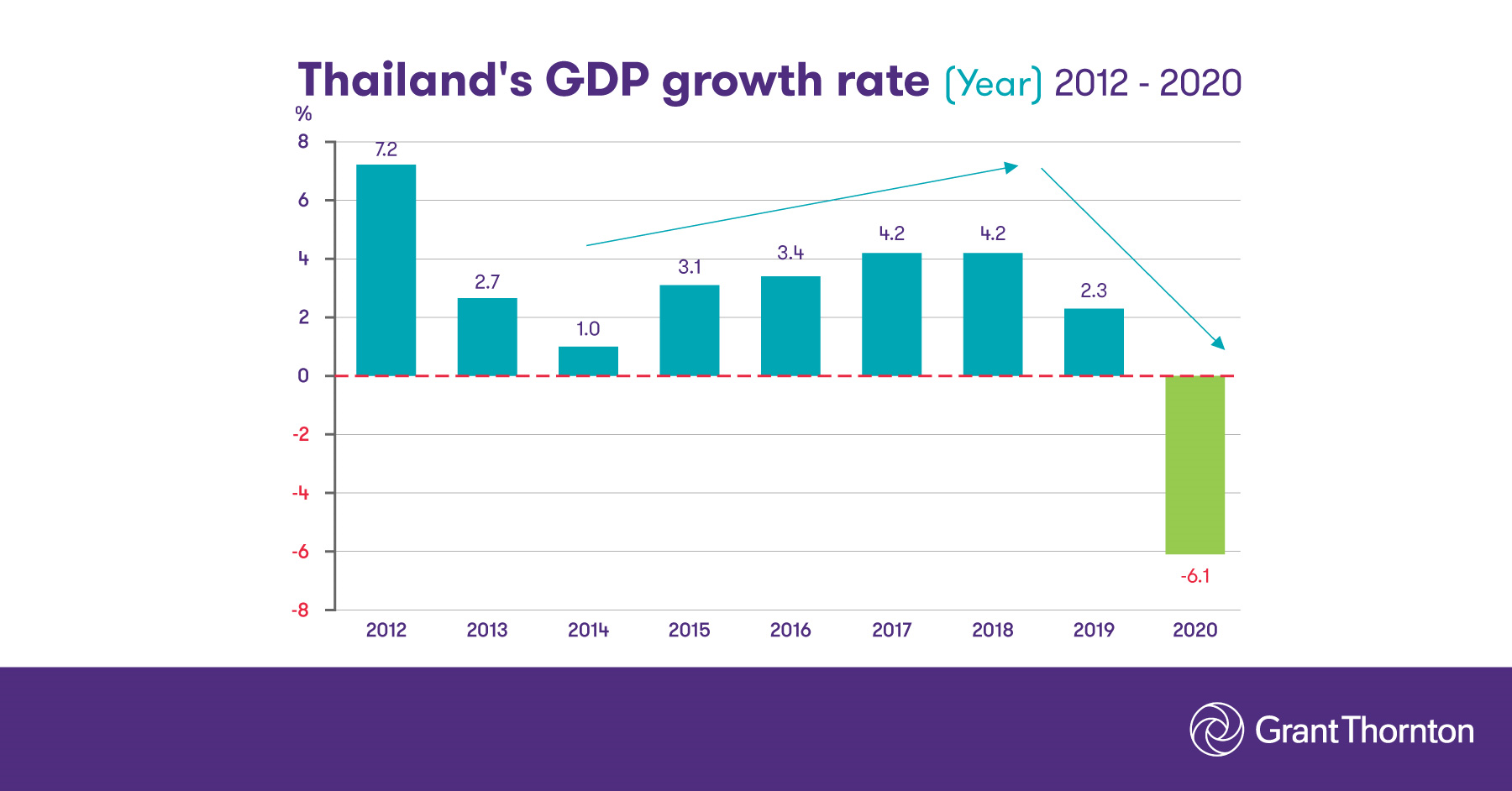 Even if the virus were to disappear tomorrow, the negative consequences of these developments would stay with us for years. Yet the country's slow vaccine rollout, combined with new outbreaks traced to Bangkok bars and clubs, have led many to conclude that, despite our hopes for a fresh start in 2021, the reality as we enter Songkran seems to resemble little more than a continuation of 2020.
These types of setbacks (which may even increase in severity as people gather together over Songkran) have already begun to deflate prior hopes of an accelerating economic recovery. Instead of opening up further, Thailand has introduced new restrictions on certain venues, while beginning to regulate travel from Bangkok to dozens of provinces around the country.
Moreover, as Thailand's economic fortunes are closely tied to the fate of the global economy – through exports, tourism, foreign investment, and other factors – no domestic recovery is likely to outpace the recovery of the world as a whole. Presently, the logistical difficulties of vaccinating entire populations, compounded by simmering political tensions within and between a number of countries, is slowing down this worldwide effort.
"When America sneezes," people used to say, "the world catches a cold." These days, our multi-polar, globalised economy leaves nations like Thailand more vulnerable to disturbances affecting any major economic region. When the world catches COVID, perhaps businesses everywhere must go on life support.
So where does this leave Thailand?
In 2020, the Thai economy contracted by an estimated 6.5% overall, with private consumption declining 1.3% and private investment down 4.4%. When we include both the formal and informal economies, estimates suggest that between 8 and 10 million people are presently unemployed.
Thailand's ability to dig itself out of this hole will depend on vaccinations as well as the prevention of a COVID-19 resurgence within its borders. Weighing these and other factors, the Bank of Thailand forecasts a positive GDP growth of around 3.0% for the country in 2021, with most of the increase coming during the latter half of the year.
As we often point out, however, this growth will not be experienced evenly across all sectors – or even all companies within each sector. Likewise, citizens will experience 'K'-shaped recovery trends, as those who already have financial reserves will be able to invest profitably, while those with fewer means will struggle to make ends meet.
The worst-hit sectors are and will remain travel & tourism, automotive, and real estate – at least for the time being. Tourism's woes are widely understood, but fewer are aware that vehicle production in Thailand fell by 40% over the first half of 2020, with a steep drop in vehicle exports over the same period. In real estate, the supply of new condo units in Q4 2020 dropped by nearly 78% from a year earlier.
Until a rising economy helps customers regain confidence and earn enough disposable income, these industries will have to endure additional slow sales periods. Markets will return eventually, however, so companies in these areas should be using this downturn to innovate as much as possible and focus on making their internal processes as efficient as possible.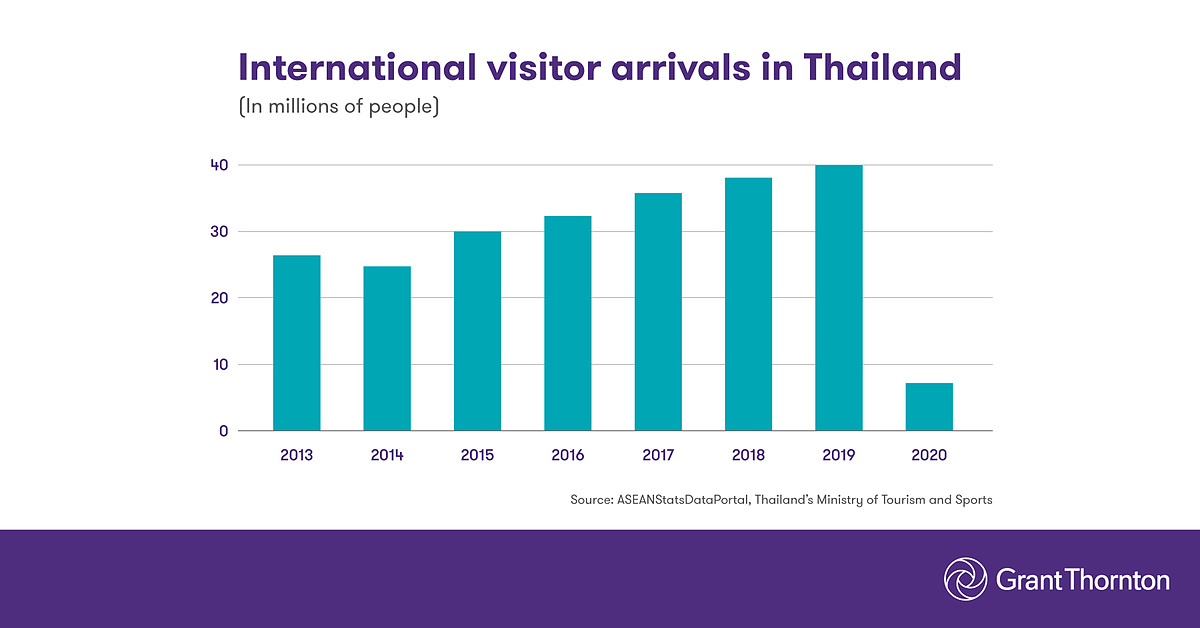 How to hit a moving target
Elsewhere in the private sector, companies that have embraced technology to support the customer experience and lower the cost of production appear to be doing well.
Examples include leading e-commerce retailer Shopee Thailand, whose advanced digital interface offers the type of customer convenience that will likely result in increased sales activity even after the COVID crisis is behind us.
Food delivery service businesses such as Grab, LINE MAN, and Foodpanda have all invested in cloud kitchens to accelerate food preparation and better accommodate their customers. These and other businesses have learned that success is not about recreating 2019 – it is about ensuring relevance in 2021.
Even businesses in hard-hit industries can benefit from this forward-thinking mindset, whether or not a given initiative is powered by digital technology. From the newfound popularity of hotel "staycations", to resorts that invite guests to recreate the five-star experience in the comfort of their own home, to airlines that (literally) cater to those who are nostalgic for flying, brands that have earned consumer loyalty are finding that they can translate that support into real sales by applying just a bit of extra creativity to their business models.
No time to waste
Even as we wait for better market conditions to present themselves, every company can improve its own prospects by streamlining its internal processes while actively innovating for success in the economy of tomorrow.
The road will be tough, with little help from outside – especially as government stimulus measures begin to taper off. A weakened Baht may help to bring in more tourists, but only if an effective system of vaccine passports can be introduced quickly.
Moreover, inflation may also be a risk. Any decision to keep the rate low through increased interest rates could have the effect of removing liquidity from the market and stifling economic recovery. Another problem results from the rise in household debt, which now represents 89.3% of Thailand's entire GDP.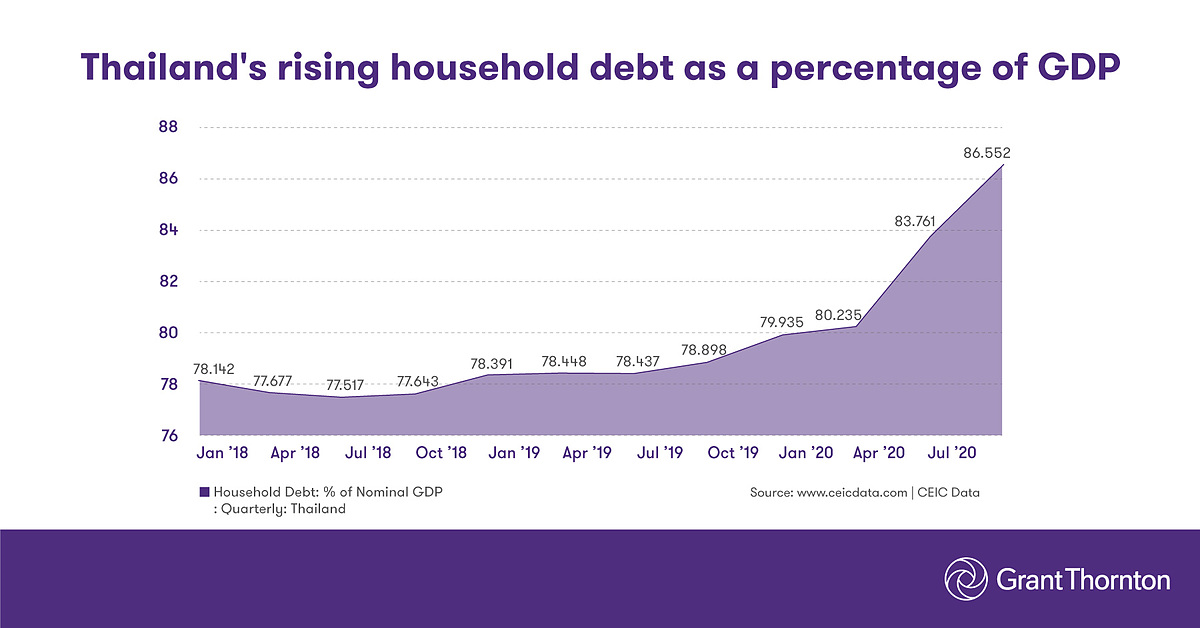 These and other indicators, particularly the high unemployment numbers, suggest a continuation of social unrest – at least if the experience of other countries is any guide. Thailand's government will likely do everything in its power to keep inflation and interest rates under control for as long as possible. But in terms of positive relief, very few public sector initiatives seem to be forthcoming.
Overall, then, the outlook for Q2 is more of the same, with limited recovery evident until H2 2021. Thailand simply must find a way to roll out an effective national vaccine programme right away, rather than remaining content with the sluggish late-2021 distribution schedule that is currently in play. A weaker but stable Thai currency would also increase consumer confidence, as the rest of the world works to complete its vaccination project and get back to some semblance of normal.
Yet whether or not these developments turn out as well as we might hope, it is well within the power of businesses to leverage the resources at their disposal to gain an advantage over their competitors.
Despite the recent upsurge of COVID-19 cases in Thailand, progress at the level of individual organisations remains squarely within reach. From inventive new business models, to digitally enhanced services, to more efficient methods of operation, companies that embrace well-adapted solutions will have the best chance to flourish in 2021 and beyond.