Global optimism declined to net 32% in H1-2019, the weakest score recorded since 2016
Emerging and Developed APAC markets each continued to drop in optimism
Thailand's optimism score rose by 17pp in H1-2019, yet still ranks below most of the 33 countries surveyed
Economic uncertainty among Thai companies stands out as a major unaddressed issue
Bangkok, 20 November 2019 – A cooling global economic cycle, along with increased uncertainty among businesses, are among the major themes of Grant Thornton's latest International Business Report (IBR). Notably, the level of optimism among global businesses in H1-2019 sits at net 32%, a decline of 7 pp from 39% in H2-2018. This figure represents a further decrease from the optimism score of 57.5% registered in H1-2018, and is the weakest score recorded by the leading business advisory firm since 2016.
Meanwhile, businesses across Asia generally share in this notably reserved outlook. Developed APAC countries have seen their overall optimism scores drop for the third consecutive period, most recently falling from -12% in H2-2018 to -22% in H1-2019. Businesses in Emerging APAC countries remain more optimistic on the whole, although the trends are also pointing downward. From its peak optimism score of 73.5% in H1 2018, Emerging APAC has since fallen 24.5 pp to 49% in H1 2019 (Refer to Figure 1).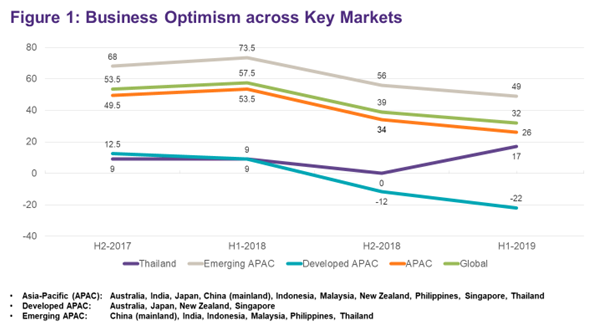 The results outlined above are part of Grant Thornton's data analysis for companies and investors worldwide. The report's findings are in line with the top risks to the global economy in 2019 as identified by The Economist Intelligence Unit (EIU), which highlighted the US-China trade conflict, China's own economic downturn, a disorderly Brexit process, oil supply shortages, and cyber-attacks, as trends of particular concern across the world.
For Thailand, overall optimism has climbed to 17% in H1-2019, from 0% in H2-2018. However, the country's optimism still ranks below most of its peers – 21st place out of 33 countries surveyed – which may be a signal from business leaders in Thailand that they need to see more signs of long-term stability and government support before they begin planning for a new period of growth.
The fall in optimism scores across key markets may also be a direct result of overall economic uncertainty; 46% of worldwide respondents, as well as 54% of respondents across all of APAC, identified economic uncertainty as a factor constraining their business in H1-2019. More interestingly, Thailand registered the world's highest rate of business leaders concerned about economic uncertainty (Refer to Figure 2).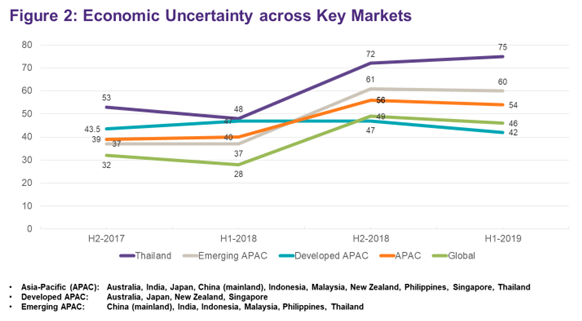 Ian Pascoe, CEO and Managing Partner at Grant Thornton, analysed the findings: "Unresolved internal and external issues each contributed to Thailand's business community registering the highest rate of economic uncertainty, at 75%. These issues may range from political turbulence, to uncertain trade agreement outcomes, to months-long delays in approval for the government's 2020 budget expenditure. Lack of clarity continues to affect the business outlook within the country," he said.
"Thailand stands to benefit from proposed free trade agreements with Europe, ASEAN, and countries on both sides of the Pacific Ocean. But none of these are confirmed as of now, and other developments such as Thailand's own 4.0 initiative have yet to bear fruit either. The cautious stance taken by businesses in Thailand should be seen in this context, and the coming months will likely prove to be critical on all of these fronts," added Pascoe.
Apart from economic uncertainty, another key constraint that emerges from the data is a shortage of finance. Surveys conducted by the business advisory firm indicated a significant increase of 10 pp in this area, from H2-2018 to H1-2019 (Refer to Figure 3). Tanva Mahitivanichcha, Partner at Grant Thornton, said: "Fifty eight percent of businesses in Thailand have indicated concern over the difficulty of securing new loans from financial institutions. This roadblock could be the result of tighter lending conditions imposed by Thailand's central bank."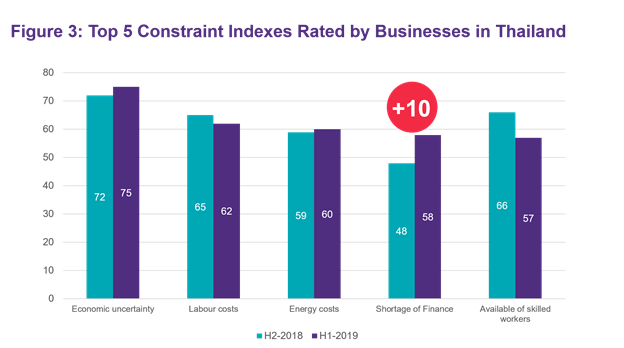 Meanwhile, the top three areas for investment focus among mid-market companies in Thailand are improving staff skills (48%), IT (42%), and R&D (39%) (Refer to Figure 4). Mahitivanichcha commented: "As mid-market companies in Thailand await improved conditions for growth, many are taking the opportunity to focus their investments internally. These jumps in investment expectations within skill training, system upgrades, and learning-based development show a clear strategy of preparing for the future rather than pursuing business growth right away. Such insights can provide an invaluable window into the general thought process within the business community, and are made possible only by the kind of consistent data collection and analysis provided through Grant Thornton's IBR series."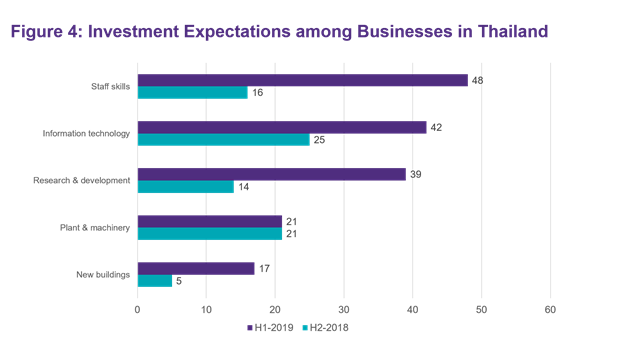 -ends-
Notes to editors:
The Grant Thornton International Business Report (IBR) is the world's leading survey which provides vital insight into the health of the global mid-market. These results for H1 2019 reflect the views of nearly 5,000 mid-market companies across 30+ countries interviewed in May and June of this year. In Thailand, there were 102 respondents from companies with a headcount between 50-500.
About Grant Thornton in Thailand
Grant Thornton (Thailand) is a leading advisory firm with more than 270 experts who provide professional business consultancy on audit and assurance, tax and legal, advisory, business process solutions, talent acquisition management and other services enhancing our clients' success. We provide integrated knowledge and skills, including the linkage and access to our global Grant Thornton network. We focus on our clients' goals and achievements, including value added services, good relationships and teams, marking Grant Thornton as the leading consultancy firm for true business growth. For further information, please visit www.grantthornton.co.th
For further enquiries, please contact:
Panittaya Changchit
Director, Marketing Communications and Business Development
T 02 205 8240
E Panittaya.Changchit@th.gt.com
Piyasuda Archasantisuk
Manager, Marketing Communications and Business Development
T 02 205 8238
E Piyasuda.Archasantisuk@th.gt.com