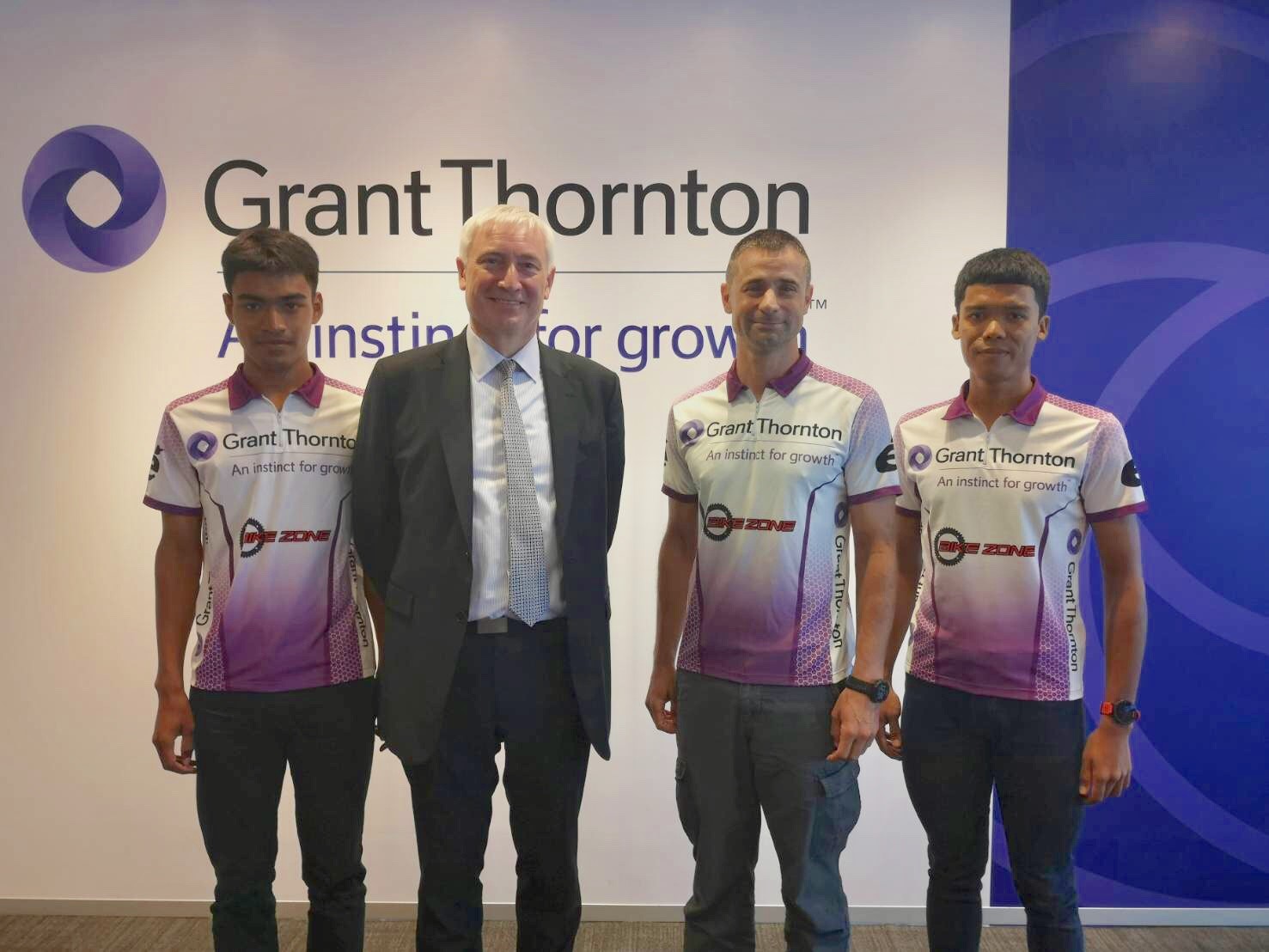 Bangkok, July 9, 2019 - Following their remarkable victory on 21 October, 2018 at L'Étape Thailand held by Le Tour de France in Phang Nga, members of the Grant Thornton Bike Zone have been invited to compete in L'Étape du Tour in France, the world-renowned amateur cycling event. They are the only invited representatives from Thailand. The race will be held in Albertville in the Southeast of France on 21 July 2019, with 15,000 participants from around the world. Grant Thornton Bike Zone will depart from Suvarnabhumi International Airport, Thailand, on July 14, 2019 at 12:05 P.M.
In addition to Grant Thornton in Thailand, a major global business consulting firm, the team's other main sponsor is Thailand's leading bicycle and bike accessories importer and distributor, Bike Zone. It is notable that several members of this team come from disadvantaged communities. However, irrespective of their backgrounds, discipline, commitment, teamwork, constant practice, and effective leadership have kept the team together since they began racing competitively, helping them win several races at the national level.
Grant Thornton's corporate message – "unlocking your potential for growth" – resonates especially well in the context of this team, which has experienced stunning success in the four years since the sponsorship began.
"We are delighted to support them, to help them showcase their potential and capabilities, and to develop their talent. We hope members of the Grant Thornton Bike Zone can show everyone that Thais have the potential and are ready to compete internationally," said Chris Cracknell, Chairman of Grant Thornton in Thailand. "Their success is especially meaningful to us as a company, illustrating our belief that there is always room for growth. The dedication of the members inspires all of us at Grant Thornton. We couldn't be more proud."
With wins at the Great Mekong Bike Ride, the King's Cup Thai National Championship: Criterium Day at Ranong and the Individual Time Trial, the Tour of Friendship, and the Toyota x Singha Club Race Thailand as well as at L'Étape Thailand by Le Tour de France 2018 in Phang Nga, Grant Thornton Bike Zone has quickly established itself as one of the leading cycling teams in Thailand.
The competition in France will follow a grueling 135 km course, taking the teams from Albertville to Val Thorens in the French Alps. The race is full of twists and turns, and is virtually identical to a stage of the Tour de France. L'Étape du Tour is an enormous challenge, with the cyclists following a route that climbs 7,759 of feet above sea level.
Join us in cheering members of the Grant Thornton Bike Zone to success on the world stage.
###
About Grant Thornton in Thailand
Grant Thornton (Thailand) is a leading advisory firm with more than 270 experts who provide professional business consultancy on audit and assurance, tax and legal, advisory, business process solutions, talent acquisition management, and other services enhancing our clients' success. We provide integrated knowledge and skills, including the linkage and access to our global Grant Thornton network. We focus on our clients' goals and achievement, including value added services, good relationship and teams, marking Grant Thornton as the leading consultancy firm for true business growth. For further information, please visit www.grantthornton.co.th
For further information, please contact:
Director, Marketing Communications
and Business Development
Tel: 02 205 8240
Warittha Thanamitsomboon
Manager, Marketing Communications
and Business Development
Tel: 02 205 8155
Saropart Noisri
Senior Officer, Marketing Communications
and Business Development
Tel: 02 205 8279