ASEAN outlook hits new records, with a 64% optimism rate among businesses surveyed in the region

Global business optimism remains healthy at 54%, down from all-time high of 61% in Q1

Business optimism in Thailand down to 2% mainly due to a general shift toward neutral responses, while most other indicators show positive signs

Concerns remain over US exchange rates and a potential slowing of employment growth
Business leaders across ASEAN are showing historic levels of general optimism in Q2 2018 at net 64%, above the global average of 54%, according to a new Grant Thornton International Business Report (IBR) conducted in Q2 2018 (Refer to figure 1).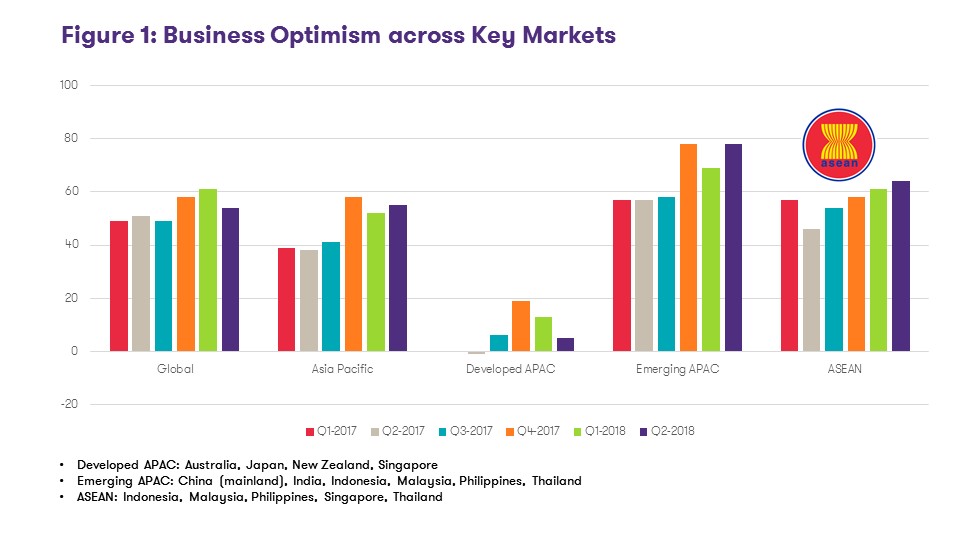 In Malaysia, business optimism has leapt 24pp to net 52% in Q2, while in the Philippines it has increased 8pp to net 82%. Indonesian businesses remain overwhelmingly optimistic at net 98% – the highest among the countries surveyed. The new high in ASEAN is the culmination of four quarters of consecutive growth in optimism and reflects greater regional economic cooperation in recent years following the formation of the ASEAN Economic Community in 2015.
Furthermore, the IMF is forecasting over 5% growth in ASEAN GDP from 2018 through to 2023, increasing slightly from 5.3% in 2018 to 5.5% in 2023. Optimism rates are undoubtedly pushed upwards by the continued growth of China, a close trading partner for many of the region's economies.
Despite broad-based optimism, concerns are on the horizon
The IBR also finds that behind this business confidence lies a threat. There are growing concerns among ASEAN businesses about exchange rate fluctuations, driven by the prospect of further US Federal Reserve rate rises this year and beyond into 2019.
Indeed, the proportion of ASEAN business leaders citing exchange rate fluctuations as a constraint on their ability to grow sits at 36%. This is a sharp increase from 29% in Q1 and 26% in Q4 2017. In the Philippines, these concerns have increased by 8pp this quarter, in Singapore by 14pp and in Malaysia by 18pp.
Ian Pascoe, CEO and Managing Partner at Grant Thornton, remarked on fears that movement in the US exchange rate could disrupt business in Southeast Asia. "If that is the case, then companies can hedge their bets here also," he said. "They can lock in a static exchange rate for the time being, or they can decide now what their plans will be in the event of a rate change – whether they will choose to absorb the extra costs, or if those will be passed on to customers. This way, they can prepare in advance for market tremors, and dilute the impact considerably."
In addition, exchange rates are not the only potential drag on confidence, as explained by Pascoe, "It's worth considering that employment expectations are falling across the region as well. The current numbers show that only 31% of respondents predict an increase in the near term. That's down 6pp from Q1, and is the lowest number we've seen since the end of 2016. This reveals a more complex picture in the region despite its record optimism score."
A split in outlook across ASEAN and a closer look at Thailand data
Despite the overall increase in ASEAN business optimism, in Singapore it decreased slightly from net 34% to net 32% and in Thailand from net 16% to net 2% (Refer to Figure 2). However, the low optimism numbers in Thailand seem to disguise a more positive trend. The responses from "very pessimistic" participants dropped from 8% overall to 2% since Q1, and the number of neutral ("neither optimistic nor pessimistic") responses grew from 48% to 58% over the same period (Refer to Figure 3).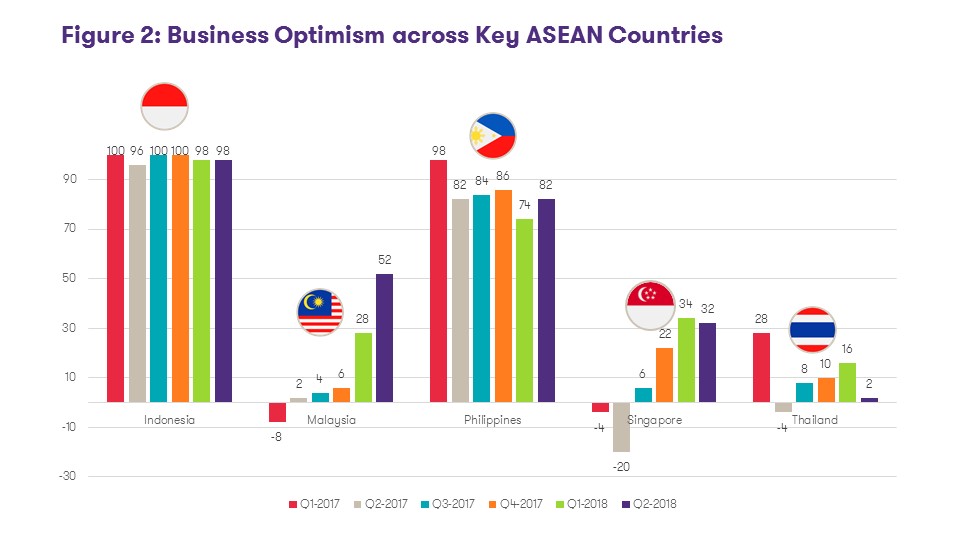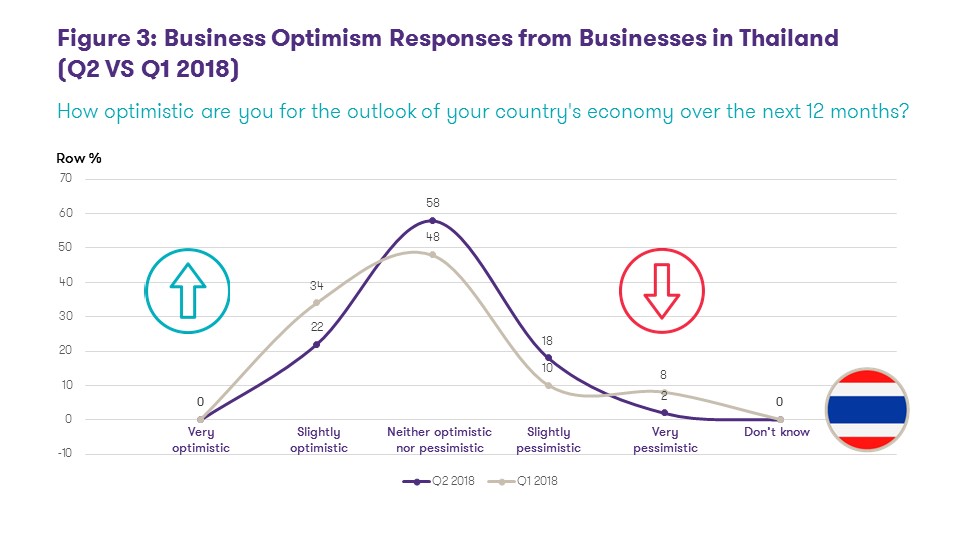 "Such trends are natural when big changes are taking place," stressed Khun Teerasak Chuasrisakul, Partner at Grant Thornton, referring to Thailand's transformation to its 4.0 model. "When you get into the real data, you see a clear move toward neutral responses. There are fewer people reporting optimism, yes – but when you compare the pessimistic side of Q2 versus Q1, you can also see a shift toward the centre of the spectrum. It may be that businesses want to hedge their bets until they see how the wider economy will develop. The Thai government has announced plenty of business incentives, educational initiatives, infrastructure improvements – and businesses want to see results before they make a full commitment."
In addition, a closer look at the responses by Thai business leaders shows significant improvements in most other areas. Expectation surrounding revenue, exports, R&D, and technology investment all saw double-digit improvement among respondents in Thailand.
A range of constraint indexes including shortage of finance, economic uncertainty, and inadequate ICT infrastructure showed decreasing figures, which also suggests a positive outlook for the country. Meanwhile, regulations and red tape, as well as a lack of skilled workers, represented the main challenges for most businesses in Thailand.
Khun Teerasak also added, "We have long known that the bureaucratic aspects of Thailand would be an issue in the runup to Thailand 4.0. The speed of economic development has also presented a challenge to educational institutions as they try to quickly prepare the younger generation for participation in an advanced economy. The good news is that businesses are gaining confidence in the new economy, helped along by better access to finance and an improved ICT infrastructure that will pay dividends in the coming years."
Further enquiries, please contact:
Panittaya Changchit
Director, Marketing and Communications
T 02 205 8240
Printhip Isariyameta
Senior Officer, Marketing and Communications
T 02 205 8158
Notes to editors:
The Grant Thornton International Business Report (IBR), launched in 1992 initially in nine European countries, now provides insight into the views and expectations of more than 10,000 businesses per year across 36 economies. More information: https://www.grantthornton.co.th/insights/articles/About-IBR
Questionnaires are translated into local languages with each participating country having the option to ask a small number of country specific questions in addition to the core questionnaire. Fieldwork is undertaken on a quarterly basis, primarily by telephone. IBR is a survey of both listed and privately held businesses. The data for this release are drawn from interviews with more than 2,500 chief executive officers, managing directors, chairmen or other senior executives from all industry sectors conducted in February and March 2018.
About Grant Thornton Thailand
Grant Thornton (Thailand) is a leading advisory firm with more than 270 experts who provide professional business consultancy on audit, tax, advisory, business consulting, talent acquisition management and other services enhancing our clients' success. We provide integrated knowledge and skills, including the linkage and access to our global Grant Thornton network. We focus on our clients' goals and achievement, including value added services, good relationship and teams, marking Grant Thornton as the leading consultancy firm for truly business growth. For further information, please visit www.grantthornton.co.th