We are Grant Thornton
Grant Thornton is a leading business adviser that helps dynamic organisations to unlock their potential for growth. Our brand is respected globally, as one of the major global accounting organisations recognised by capital markets, regulators and international standards setting bodies.
Over the last three years we are the fastest growing large accounting organisation and we are constantly evolving and developing alongside our clients'
The leading global advisor for dynamic organisations in Thailand
Grant Thornton Thailand, a member firm within Grant Thornton International Ltd (Grant Thornton International), was established in 1991 and has enjoyed growth and success since. We are the perfect partner for organisations that are ambitious and want to grow. We understand organisations that are going through change and that need our advice and support, because we too share the characteristics of ambition and dynamism.
We have approximately 270 professional staff providing quality services in advisory, assurance, executive recruitment, outsourcing and tax consulting, designed to help clients in various industries achieve their business objectives. We operate with the highest standards of professional integrity with solid principles. Our dedication, teamwork and commitment result in a world-class professional service to our clients in Thailand.
A truly global organisation
Grant Thornton took our first steps to becoming a truly global organisation in 1979 when the UK and the US firms set up a new international organisation. Many of the original member firms remain in our global organisation, including India, Costa Rica, Jamaica and Singapore.
All of our founding firms had one thing in common – a commitment to delivering best-in-class solutions to clients. Global growth gathered momentum during the next several decades as new member firms from dozens of countries became part of the international organisation.
As a $5bn global organisation of member firms with more than 50,000 people in over 135 countries, we have the scale to meet your changing needs, but with the insight and agility that helps you to stay one step ahead.
Privately owned, publicly listed and public sector clients come to us for our technical skills and industry capabilities but also for our different way of working. Our partners and teams invest the time to truly understand your business, giving real insight and a fresh perspective to keep you moving.
Whether a business has domestic or international aspirations, Grant Thornton can help you to unlock your potential for growth.
Awards
Grant Thornton is an award-winning globally recognised professional services firm. Here are some of our awards: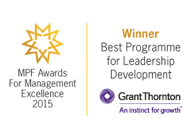 Best Programme for Leadership Development in 2015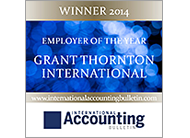 IAB Employer of the year 2014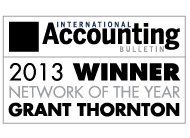 Global network of the year 2013